Slow Road to San Francisco
Across the USA from Ocean to Ocean.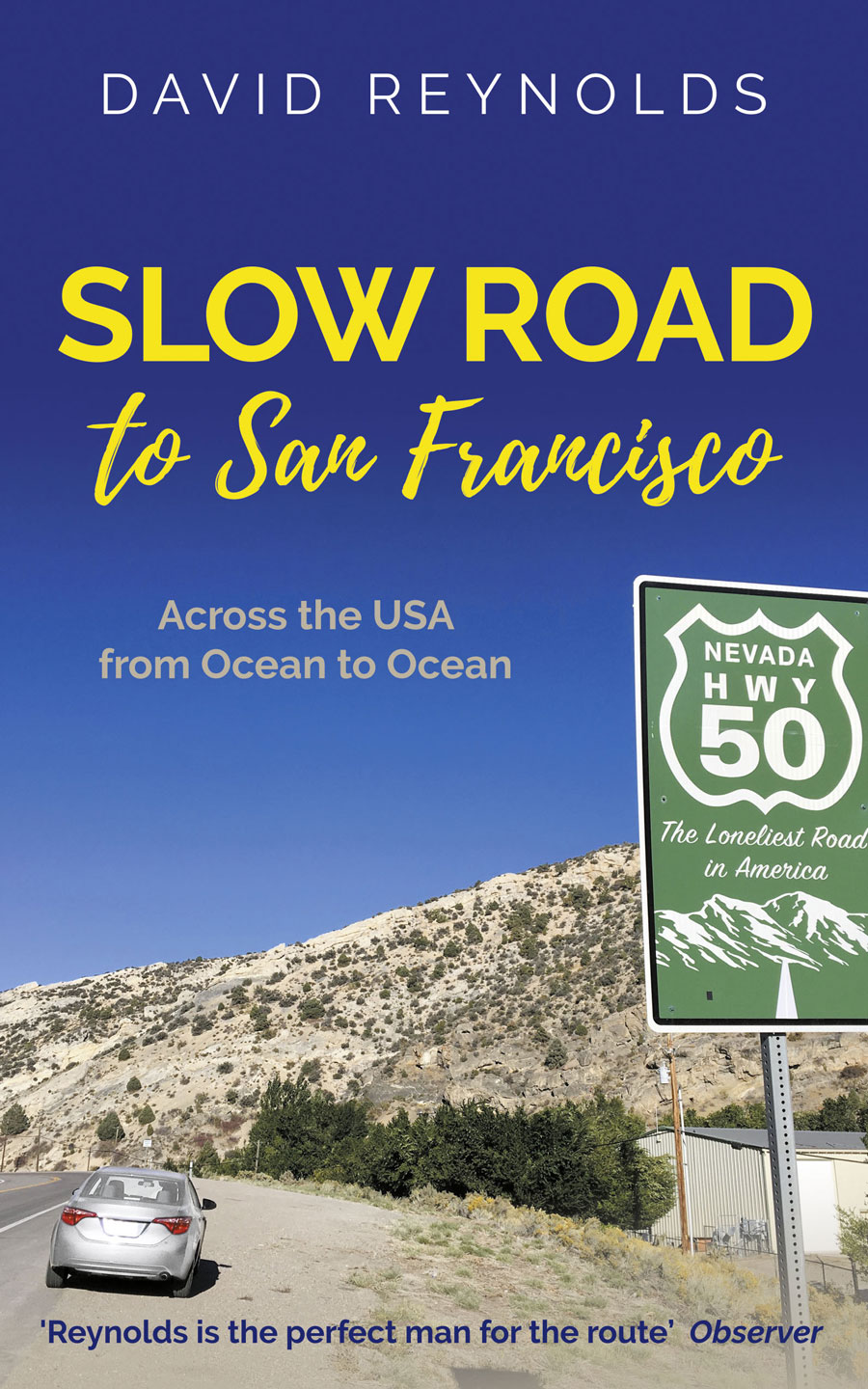 Review quotes
'What a book! What a joy of a book, plunging you straight away into the very body, bosom and blood of America.. it makes me cry with pleasure, enfolding me, as it does, with the sheer magic of being able to be back on the road in America'. —Lucinda Lambton The Oldie Magazine
'Slow Road to San Francisco is an absolute joy. An entertaining blend of observation and commentary delivered with a luminous lightness of touch. Buckle up for a read that's radiant with the author's wit, charm and keen eye for people and place – everything you'd want from an on-the-road companion. … it truly feels like you're on the road with him… this is life-affirming, enlightening stuff. Perhaps what stands out above all else is a generosity of spirit, both on the part of the people who freely share their time, opinions and tables with Reynolds, and on the part of the author himself. Like all the best road-trips, I didn't want this ride to end.' Joanne Owen, LoveReading, ***** A Book of the Month
'Bloody gorgeous … memoir and travelogue and current America and gentle and warm and SO needed right now … What a generous, empathetic book it is.' Stella Duffy
'I loved Reynolds previous travelogue…this (is an) equally absorbing, perpendicular odyssey…travelling on back roads and stopping frequently to take the pulse of Trump's America.' Caroline Sanderson, The Bookseller, Editor's Choice
'Seldom have I read a travel book that so perfectly captures the essence of somewhere I have never been – a 46 day jaunt passing through 13 States and covering some 3000 miles. Never a dull moment with lots of gentle humour.' David Allan, Country Music People
'More than just a road-trip, this is a  beautifully observed portrait of the most powerful nation on earth in the age of Trump, suddenly rendered unsure of itself and its future. David Reynolds is an astute observer and a careful listener, who writes like a dream.  America's vitality and variety, its comedy and its sadness, and the spirit of the common man and woman  has seldom been more vividly captured than here.'   Mick Brown
'Here is a narrator that manages to be political but not aggressive, liberal but not condescending, affable but not foolish.…  his genuine love for travel, history, and a general sense of curiosity shine through …  Reynolds is an affable travel companion … traveling along with him in this highly readable book, will leave readers hopeful for a better future.'  J. R. Patterson, Travel Writing World
Scroll down for Playlist
Photos Click to enlarge
Relax in the passenger seat as David Reynolds drives a rented Chevy Cruze from coast to coast on an old-style, mostly two-lane, US highway which connects Ocean City, a traditional resort on the Atlantic coast of Maryland, to California and the Pacific Ocean at San Francisco.
Reynolds moseys from east to west, driving as slowly as safety permits. He stops frequently, often goes backwards to have a second look at something glimpsed in passing, and makes numerous sideways detours. He leaves his car to walk, and talk to people on the roads and streets, in stores, bars, cafés, motels, gas stations, libraries, museums, public buildings, car parks. And he meets a huge variety of Americans – white, black, hispanic, Asian, native American; Christian, Muslim, atheist, Mormon, Mennonite; rich, middling, poor. They talk about everything from slavery, Indian reservations, fracking and forest fires to baseball, beer, the blues, Butch Cassidy, motorbikes and Marilyn Monroe. Everyone has something to say about Donald Trump, from those who 'love him' to those who 'hate him'.
Route 50 crosses thirteen states and passes through numerous small towns – often becoming Main Street – and a handful of big cities: Annapolis, Washington DC, Cincinnati, St Louis, Independence, Kansas City, Carson City, South Lake Tahoe, Sacramento. It crosses the Blue Ridge Mountains, the Alleghenies, the Appalachians, the rust belt of West Virginia and Ohio, the Mississippi, the farmland of Illinois and Missouri, the Great Plains, the Rocky Mountains, the Colorado Plateau in Utah, the deserts and mountains of Nevada (where Route 50 is famed and signposted as 'the Loneliest Road in America'), the Sierra Nevada and the coastal plain of California.
As he travels from east to west the author follows the direction of history: the direction in which the country expanded from early in the seventeenth century until early in the twentieth; the direction taken by European explorers and pioneer settlers; and the direction taken, even now, by those in search of a better life. Readers of Slow Road to San Francisco will, like its author, see breathtaking landscape, grand architecture and historic buildings, as well as bars, motels and mean streets; they will meet many people and learn much about the United States, past and present.
In Slow Road to San Francisco Reynolds writes with the perception and humour that gripped readers of his highly regarded Slow Road to Brownsville.
Slow Road to San Francisco Playlist